Enjoy financial flexibility for your business
It takes a lot of time and effort to manage your business, and we know having the right tools is important. Creating financial flexibility with a secured line of credit or commercial mortgage can help you manage cash flow, save on interest and grow your business – on your own terms.
With Manulife One for Business, you can:
Access the equity in your commercial property at any time 
Free up cash flow by choosing payments that work for you
Save thousands of dollars in interest
Simplify your bookkeeping by reducing the number of accounts you need to keep track of
Become debt-free sooner by using your business income and savings to reduce your outstanding balance
Is Manulife One for Business right for you?
Yes, if you have:
Been in business for at least three years
Managed your investment property for at least three years
Kept your income taxes up-to-date and maintained a good credit history
A multi-residential property, office building, condo, retail plaza or light industrial building
A need for a loan between $250,000 and $5,000,000
Manulife Bank Select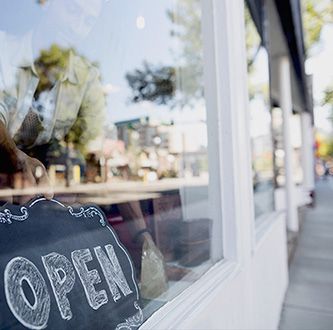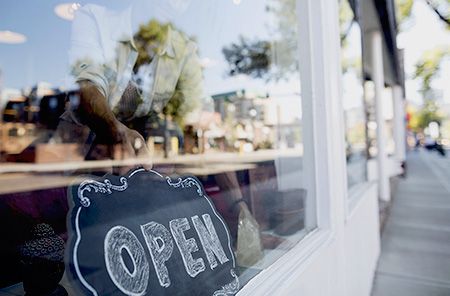 See if your building qualifies:
Type of property
Eligible for Manulife One for Business
Not eligible for Manulife One for Business

Office building
Retail plaza, strip mall, shopping centre
Light industrial
Multi-residential property (single title with 5 or more units)

Environmentally sensitive business (gas station, auto shop, dry cleaner)
Single use/hospitality (parking lot, self-storage, car dealership, movie theatre, hotel, restaurant, bar, golf course)
Medium or heavy industry (mining, manufacturing, agriculture)
Real estate development (property under construction, speculative property, vacant land, leased land)
Not-for-profit organizations
Property location
Alberta
Calgary
Edmonton
Fort McMurray
Grande Prairie
Lethbridge
Medicine Hat
Red Deer
British Columbia
Abbotsford
Chilliwack
Courtenay
Kamloops
Kelowna
Prince George
Vancouver (greater area)
Vernon
Victoria
Manitoba
Brandon
Winnipeg
New Brunswick
Fredericton
Moncton
Saint John
Newfoundland
St. John's
Nova Scotia
Halifax
Ontario
Barrie
Belleville
Brantford
Cambridge
Chatham-Kent
Guelph
Hamilton
Kingston
Kitchener-Waterloo
London
North Bay
Oshawa
Ottawa
Peterborough
Sarnia
Sudbury
St. Catherines/Niagara
Toronto (GTA)
Windsor


Québec

Granby
Saguenay
Saint-Hyacinthe
Drummondville
Montréal
Ottawa - Gatineau
Québec City
Saint-Jean-sur-Richelieu
Sherbrooke
Trois-Rivieres

Prince Edward Island
Charlottetown
Saskatchewan
Regina
Saskatoon
Your primary Manulife One for Business account is a secured line of credit with a variable interest rate. You use – and repay – the money on your own terms. If you need some cash for things like day to day expenses or major purchases, you use it and then repay it when your income comes in. It's just that simple.
If you prefer to lock in some of your borrowings, you can create up to five sub-accounts within your primary Manulife One for Business account.
Sub-accounts are smaller fixed term commercial mortgages (fixed interest rate or variable interest rate) within your primary account. You have flexibility to choose the features for each commercial mortgage sub account that work best for your business, such as the dollar amount, payment frequency and number of years.
Main and sub-account overview

|   | Loan to value | % |
| --- | --- | --- |
| Property value | $1,000,000 |   |
| Main account (credit line) | $500,000 | 50% |
| Amortizing sub-account | $150,000 | 15% |
| TOTAL LOAN | $650,000 | 65% |
Compare Manulife One for Business vs. a traditional commercial mortgage
Manulife One vs. Traditional commercial mortgages
 
Traditional commercial mortgage
Manulife One for Business
Access to credit limit

Full amount paid in a one-time lump sum
One term with the same interest rate

Access money at different times when you need it
Line of credit with the option to create fixed rate, fixed term sub accounts

Principal repayment

Must start making  principal and interest payments immediately
Cannot re-borrow money as the balance is paid off

Pay down principal on your own terms
Option to make interest-only payments
Re-borrow your principal as you need it

Prepayment privileges (fixed term and fixed rate)

Repay your line of credit balance at any time, without penalty
Option to repay up to 20% of the fixed rate, fixed term sub accounts each year without penalty

All-in-one banking and mortgage account privileges

Combined business lending and chequing account
You can borrow up to 65% of the commercial property value (defined as lower of property value and purchase price).
The credit line has no fixed amortization and paying interest monthly is acceptable. The sub account requires monthly payments of principal plus interest.
No. We'll work with you directly to determine what makes the most sense for your business.
You may also like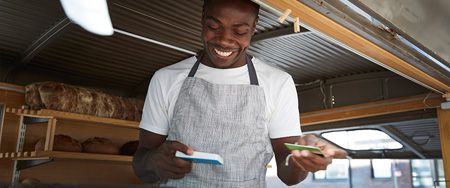 A high interest savings account for your small business
Our Business Advantage Account complements your traditional business operating account and offers a high interest rate on every dollar you deposit. You can access your money when you need it through mobile, online and telephone banking or with pre-authorized bill payments and cheques.
LEGAL
®Trademark of Interac Corp. Used under licence.