They're talking about us – See what our clients have to say about Manulife One for Business
Manulife One for Business is not your traditional commercial mortgage. It is an all-in-one business banking solution for small and medium business owners that can help reduce interest costs, free up money to grow your business and pay off your mortgage sooner.
But, don't take our word for it. See what business owners are saying1.
Enjoying the flexibility to easily fund improvements - Jeff Keller, WK Financial Planning, Stratford, ON
"Every year we do something to the office building.  New driveway, landscaping, paint... It all makes a big difference. It is nice not to have to go to the bank every time we decide to make improvements. We can also pay down the mortgage as much as we want to every year. The flexibility is the best feature, in our opinion, with Manulife One for Business."
Looking forward to paying off their mortgage 8 years sooner - Jim Myers, Myers Benefit Consulting, Grande Prairie, AB
"More flexibility in our day-to-day cash flow. We estimate paying off the mortgage in 12 years versus the original 20 on the mortgage. The functionality of Manulife One for Business really works at reducing interest costs.  Our revenue is quite stable and we make our deposits at the beginning of the month, and as expenses are incurred through the month, we eat into that revenue but definitely save interest charges along the way."
Was able to take advantage of an investment opportunity - John Davis, Blackburn Davis Financial, Edmonton, AB
"Our Manulife One for Business is primarily used as a mortgage alternative in the building we own to house our offices. As we have paid down the debt on the property, it opened up capital we were able to access very quickly to take advantage of an investment opportunity. That's when I realized the true power of this debt instrument."
Seeing the business benefits and freedom of banking on his own terms - Paul Lauzon, Lauzon Financial Advisors Inc., Kelowna, BC
"I was able to buy the office space I required at the time with a reasonable payment and the flexibility of financing it over a longer period. My Manulife One for Business has no fixed payments, just the interest element, which became very valuable in the credit crisis. Also any surplus earnings automatically reduce debt and save interest so there are banking efficiencies not achievable with standard banking. In business you need the flexibility, the interest savings, and the freedom to have your banking on your terms, not the banks."
Finding it easier to see what's happening with their money - Perry Rietze, P. Rietze Construction, Sudbury, ON
"The line of credit at a low rate helped us the most and all company debt in one account makes it easier for us to see what is happening with our money. The simplicity and flexibility of the account and the ease to read the monthly statements helps a lot."
Sees Manulife One for Business as a transformational account - Richard Cremasco, R&D Investco, Guelph, ON
"The Manulife One for Business account is looked at by us as a "transformational account!" At one point we realized the mortgage on our building was going down while the equity was rising. The question became, how do we transform this equity into something that enabled us to take advantage of perceived opportunities in the market place?  Manu to the rescue!!!"
Has opened up funds for business development and upgrades - Richard Hall, RM Hall & Sons Holdings Inc., Brampton, ON
"I have the improved cash flow position as a result of the structure of the principal and interest payment set up, this enables more choices and more flexibility with the use of my business funds. This opens up funds for business investment, increased hours for employees, upgrades or debt reduction."
Achieving instant interest savings - Steve Gooder, Gooder Financial Management, Kelowna, BC
"The interest savings over the year is phenomenal! I used to have a commercial mortgage and a business bank account, with two separate institutions. My bank account always had a high balance in it (that earned zero interest), and the mortgage payment was only paid when due. Manulife Bank has rolled them into one and I achieve instant interest savings on the mortgage part. All of my business transactions go through this account and the fees are incredibly low. I saved over $1,000 on the banking fees alone last year."
Hasn't found any other bank that offers what Manulife One for Business does - Sunita Kapil, Kapil Financial Services, Brampton, ON
"Sometimes we require large amounts of funds with very short notice. I find Manulife One to be extremely valuable for this purpose. I find no other bank offers this kind of line of credit against my real estate holdings. All the banks were willing to give me a mortgage and charge me interest on that money, which I had no use for until a deal came along which can be once every few years. With Manulife One I only borrow when I need the funds and only pay interest when I borrow."
Now in control of how he manages his debt - Travis Beauchemin, TKB Law Firm, Saskatoon, SK
"I found the commercial products available for financing my business to be very inflexible and the applicable interest rates to be higher than I would prefer.  Prior to setting up my Manulife One for Business account I felt my lenders were in control and dictating the options for paying my debt. I am now in control of how I choose to service my debt."
1 These stories contain real-life scenarios about a Manulife One for Business client's experience which have been edited for clarity and/or brevity. No one has been paid to share their experiences. Individual experiences will vary.

You may also like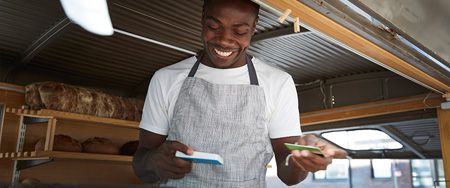 A high interest savings account for your business banking
Our Business Advantage Account complements your traditional business operating account and offers a high interest rate on every dollar you deposit. You can access your money when you need it through mobile, online and telephone banking or with pre-authorized bill payments and cheques.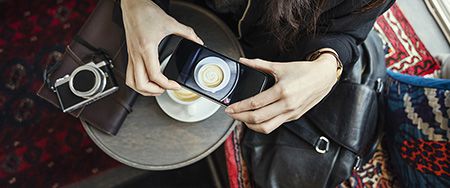 A small business US dollar savings account
Make your US cash work as hard as your Canadian cash. Earn interest while reducing the impact of currency fluctuations on your bottom line. There's no minimum balance required and your money is never locked in. You can access your money anytime by transferring funds through mobile, online and telephone banking.